Guggenheim Museum new exhibit is a Solid Gold Toilet, which the visiting Public can use.
The Guggenheim Museum, in New York City, last week opened their latest Art Exhibit. The Art will be displayed in a Public Washroom.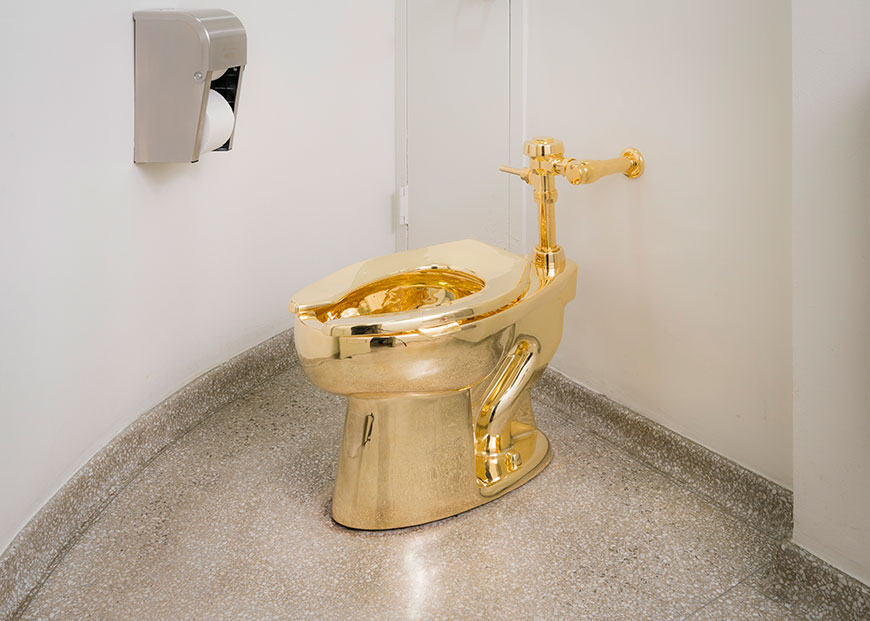 Photo of Art by Italian artist Maurizio Cattelan courtesy of the Guggenheim Museum
There will be a Security Guard posted outside of the Bathroom. The Public will be allowed to enter and use the fully functioning Solid Gold Toilet, made by Italian artist Maurizio Cattelan. It's a piece of art????
Video is courtesy of the AFP news agency YouTube channel
Guggenheim Museum
1071 Fifth Avenue
New York NY, 10128
Larger Map
Get Directions
Hours of Operation
Sunday – Friday: 10 am–5:45 pm
Saturday: 10 am–7:45 pm Pay What You Wish: 5:45–7:45
Closed: Thursdays, Thanksgiving, Christmas Day
Last ticket issued 30 minutes before close.
Admission
Adults $25
Students and Seniors (65 years +) with valid ID $18
Children under 12 Free
Members Free
Posted by: Vincent Banial
http://www.uniquelytoronto.com
Disclaimer: Any Trademarks mentioned in this post are owned by the respective Trademark owner. There could be unintentional errors or omissions in this post. Always refer to the official sites to confirm details and any ongoing changes or updates. This post is subject to change without notice. Any offers mentioned in this post are also subject to change without notice.